Redecorating, remodeling, and interior design can quickly go from a fun project to a logistical nightmare. Paint samples, chair measurements, mood boards . . . it's a wonder anyone gets a home-decor project done with their sanity intact.
Lucky for us, weekend warriors can now approach their projects with an ace up their sleeve: home-design apps. Now, even the most inexperienced DIYer can plan, decorate, and rearrange with the best of them. Tools that were once available only to professionals are cheap or free and take only a few minutes to use.
This is due in large part to better visual technology. Visual AI and AR possibilities are faster, lighter, and more user-friendly than they were before — not to mention more accurate. This futuristic tech is what drives all of the apps on this home-design app list.
From creating to-scale blueprints to digitally painting your walls without touching a paintbrush, here are 18 home-design apps that will help you get the job done with a fraction of the hassle.
Home-Design Apps for Inspiration
Whether you have just moved into an apartment full of white walls or are trying to spruce up a tired room, these apps will help you see potential in the space around you.
When you're browsing for art online, it can be hard to actually envision how it will fit in your space. That's why Artfully Walls has an interactive tool that lets you arrange art on a virtual wall with a scale model. Rather than wasting time buying prints, getting them framed, and getting them home, only to realize not everything will fit, you can easily see what your art will look like without lifting a finger.
Equally as helpful, it lets you arrange your art without having to enlist friends to hold up prints over your couch until you're satisfied with the look.
Price: The Artfully Walls app is free on their website.
If you want to take things a step further, the Art.com app lets you virtually place art on your own walls. Available for both iPhone and Android, you can choose art, add a frame, and hang your new paintings on your wall instantly.
The Art.com app also has a visual search feature to help you find art you like in a snap. If you want a quick way to refresh a space that's otherwise decorated and done, try this one — it's a brilliant way to browse art online with a more personal, AR touch.
Price: The Art.com app is free and available for download on Google Play and the App Store.
Morpholio's BoardPro app for iPhone and iPad is an interior designer's dream. You can make collections of furniture you want, create mood boards, and even sync with your Pinterest account. It's an essential home-design app for anyone starting out on a big renovation, redecoration, or rejuvenation project.
You can also use the app to take color codes from your iPhone or iPad camera. With these codes, you can generate color renderings that respond to lighting conditions and show how the colors will look in different situations. Between the sleek interface and next-gen tech, this is an app fit for a pro.
Price: BoardPro is free to download, but full access to the app is $11.99 annually or $3.99 monthly. Some features are not available with the iPad app.
Home-Design Apps for Layouts and Blueprints
Measuring rooms, furniture, windows, counters, and cabinets and then drawing them all out on graph paper — it's enough to make you throw your pencil in the trash. Actually, go ahead and throw it away; these apps make blueprints and digitally rearrange your space without your guesswork, manpower, or badly scaled drawings.
If you want to plan a room like a pro, then Floor Plan Creator is the place to go. It has an Android app and an online workspace that will help you arrange any room in your house. You can add furniture, appliances, and house features, such as ventilation shafts, and do everything to scale.
Rendering from the online demo
The interface is easy and intuitive to use and has enough customizable options to keep anyone happy. The desktop and web apps will sync for creation on the go.
Price: The Floor Plan Creator app is free on Android, with in-app purchases for premium features. The desktop app can be used for free for one project or is $4.95/year for a standard subscription.
If you want one tool to rule them all, Planner 5D might be it. You can build scale models of your space and then decorate with fully customizable furnishings from the 4000+ item catalog. The tool is relatively easy to use and has options for Windows, Mac, and mobile.
They also have an online community where you can share your designs and get inspiration from others. If you want to build a dream project — even an entire house — you can do it in Planner 5D. Forget the Sims; this app is the adult way to build your true dream house.
Price: You can start building for free online or on their desktop or mobile apps. Premium features, including full customization, start with a monthly subscription for $4.99 or a yearly subscription for $9.99.
If you have trouble envisioning your space, Room Styler 3D is the tool for you. Not only can you arrange furniture and drag accessories onto your space, but you can also "see" the room from a virtual camera that you can place at any angle.
There's also a mood-board tool for design inspiration. This tool is great for gathering ideas and approximating design, but it isn't as customizable as some of the others on this list. It is a blast to use and is easier to pull together a design than the more in-depth tools as well.
Price: Free online, with an option to register and save rooms.
If you want to build a blueprint, model, and 3D view of your new space, RoomSketcher will be a great tool for you. Their design tools allow you to fully customize a space and add all of the touches that finish off a design on Windows and Mac and on iPad and Android tablets.
Unlike some other tools on this list, the RoomSketcher app is great for multiple-room projects because it is easy to see a view of your entire space. There are quick online video tutorials to get you started with the tool in no time.
Price: You can use RoomSketcher for free, but access to premium features starts at $49 per year.
If you've always wished you could create professional-grade renderings of your space, 3Dream will let you do just that, without spending so much as a minute learning about architectural drafting. You can do both 2D and 3D designs that help you envision both the blueprint and the furnishings of your home.
There are thousands of items to decorate with, and video tutorials to get you started in the tool. With professional-grade options, this tool is perfect for serious renovators who want to step up their game.
Price: You can use 3Dream for free, but they offer premium options, including phone support and training, starting at $39.99/month.
If unlimited options and professional tools are a bit over your head, this Design Crew Room Planner from Pottery Barn allows you to make 3D renderings with Pottery Barn's inventory.
While their selection is more limited than some other tools, that makes it perfect for the casual browser. Plus, if you like how things look, you can order the items right away. That makes it superior to some of the more customizable tools listed here.
Price: Free, but you have to sign up for a Pottery Barn account.
Home-Design Apps for Measuring
If the thought of climbing around furniture to get accurate measurements of your spaces and decor makes you want to scream, or if keeping track of measurements for various rooms is your waking nightmare, look no further. With a quick scan from your phone, these apps will get the job done without you lifting a finger.
Photo Measures allows you to take any photo and put on measurements for walls, windows, etc. You can easily annotate any photo right from your phone, and the simple interface makes it appropriate for anyone to use. This is perfect for keeping track of measurements for every room in your house.
Price: Free for iPhones in the App Store.
If you have an iPhone, you can make to-scale drawings with Magicplan. It does measuring work for you by digitally rendering your space. From there, you can add notes, attach additional photos, and create virtual tours. If you need scale modeling, blueprints, or measurements for construction or decorating, this is a great app.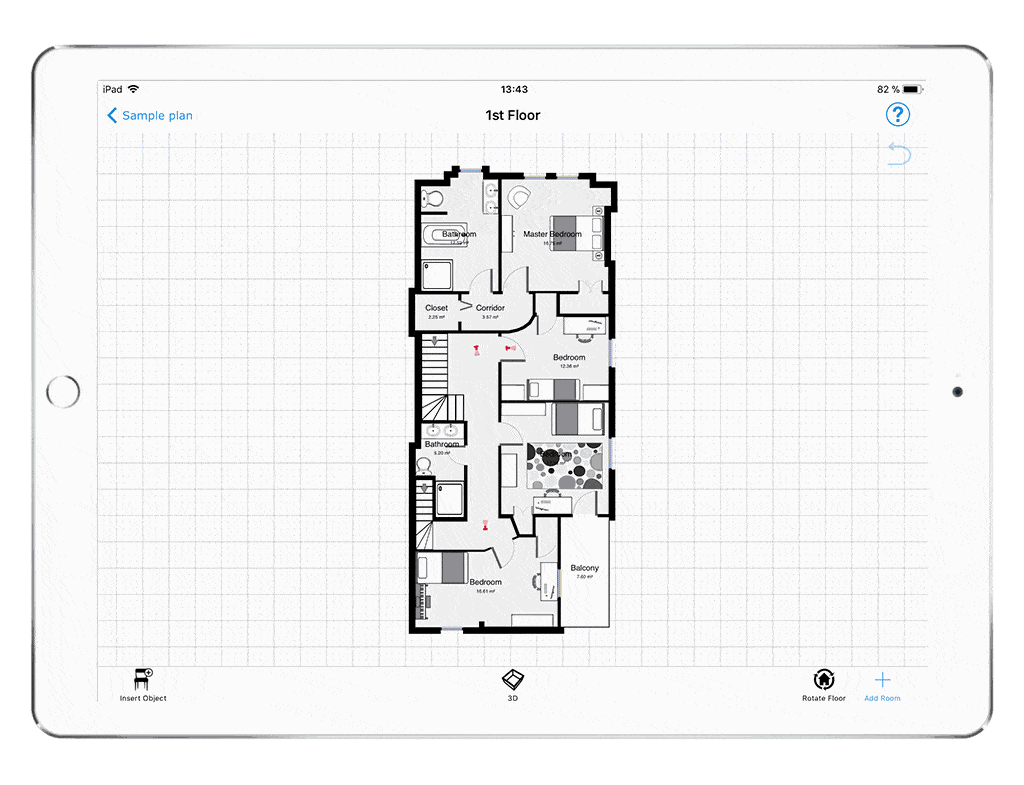 Price: Some functions are available for free on iPhone, but unlimited plans and features are $9.99/month.
If you want an augmented-reality experience that does your room measuring for you, RoomScan Pro is the app you want. Simply by touching your phone to each wall in a room, the app will build a scale model for you — no manual measuring or dragging and dropping.
Price: Free for iPhone.
Home-Design Apps for Testing and Arranging
If you want to test colors, rearrange furniture or cosmetically uplift your space, not build an accurate blueprint model, these apps will help you do just that.
If you need a little help figuring out your color scheme, Visualize Color from PPG is the app for you. It's available through your web browser and lets you upload any photo to "paint" the walls digitally. You can select virtually any color imaginable, upload a reference photo to choose colors from, or use their curated color palettes for a little guidance.
After you've finished, the app will tell you where to buy the PPG color that matches your heart's desires. They also offer photos of rooms for you to play around with, in case you need some design inspo.
Price: Free online.
Just like the PPG tool above, Benjamin Moore's Personal Color Viewer lets you virtually paint the walls of your space with any color you can imagine. They offer curated color palettes to help you figure out what will look best in your space, and each palette has a ton of options.
You can upload your own photo or use one of their inspiration photos. Unlike PPG, Benjamin Moore offers more expanded color stories and an easier color search from their collection. So if you've got a paint color in mind, you can virtually recreate your space instead of relying on tiny wall samples.
Price: Free online.
Named one of the best design and decorating apps in 2017 by Architectural Digest, the Color911 app is a great way to build your own color palette for any project. If you're a color pro, you can customize every color to make something beautiful and unique.
But if you're hesitant about trying your own hand at building a color scheme, they have built-in palettes that contain myriad coordinating colors with which to build a smaller, more personal palette.
Price: $3.99 for the iPhone, with in-app purchases.
The roOomy Design Studio iPad app will help any decorator visualize their space with new additions. With their AR technology, you can digitally "place" furniture from retailers like Amazon, Houzz, and Wayfair in any room in your house.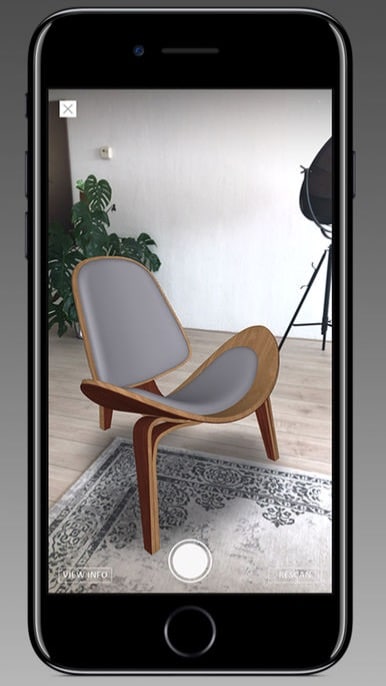 Rather than build a whole scale model of your room just to see how one piece will change things, this app offers an easy way to visualize new furniture in your space. You can even see different styles, fabrics, and colors of the pieces you're interested in to make sure what you want to buy works.
Price: Free for iOS.
If you want a more in-depth approach to redecorating but want to use items available for purchase rather than stock renderings, Amikasa is the app for you. It's a 3D floor-planner, with which you can build your room to exact dimensions and then fit in furniture and decoration from a variety of retailers.
You can use their color catalog to choose a scheme, play with flooring, and rearrange furniture. It's also easy to email your design to a friend, a partner, or another co-decorator who might be interested in the things you've come up with.
Price: For iPhone and iPad, Amikasa is $.99, and a beta version is free for Windows.
This app is a superior tool for testing out different paint colors virtually. Choose any color you like, or upload a photo with a color you want to try — the app will automatically "paint" the walls of whatever room you choose.
The app will also adjust to light and shadows in your photos, creating a realistic version of what the paint color would look like, rather than simply covering any surface with a single tone. If you're serious about picking a custom paint color, definitely try this app.
Price: Free to use on iPhone or Android, with in-app purchases.
Welcome to the future of decorating
No matter what project you're tackling in your room, home, or apartment, there's a home-design app to help you out. These are fun and functional — leaps and bounds ahead of cutting out pages of magazines and taking measurements of couches in-store. We hope you find some inspiration in these apps and dive into decorating with all this sophisticated AI and AR tech to make your project a success.